Rancho BioSciences is on a mission to save lives through data.
Rancho BioSciences vision is to be the leading data services company in the world, leveraging domain knowledge and expertise to solve complex problems.
Rancho BioSciences is The Data Science Services Company
We are here to serve you and provide solutions to complicated problems.
We have a team of experienced Ph.D. and M.D. scientists around the world that deliver high-quality work on time and on budget. Our goal is to support the life science community by curating and organizing all kinds of life science data for analysis and providing knowledge-mining services to be leveraged by our clients to further their research to answer important questions. We are all passionate about our work and the impact it will have on patients and their families.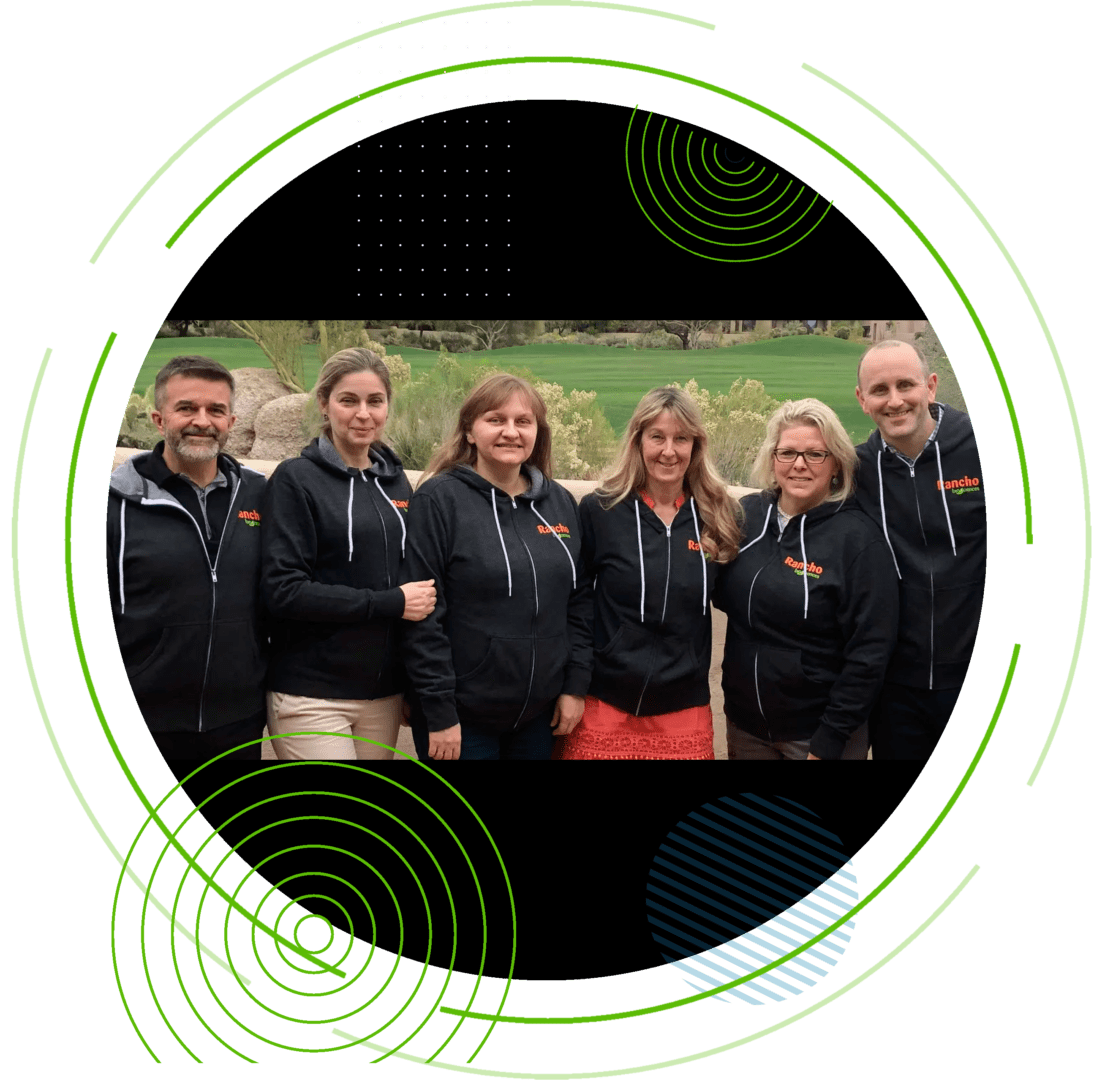 We discuss the project; we write a detailed proposal with solutions and deliverables for a set price with milestone payments.

Daily rate: We can also work on smaller projects using our daily rate.
Rancho assembles a team of experts with relevant skills to solve basic to complex projects.
We assign a Project Manager, a domain expert as a Technical Leader and we leverage scientists and developers based on what is needed at the time.

This could include oncologists, neurologists, cell biology, tox experts, curators, data scientists, analysts, bioinformaticians, engineers, ETL experts, pipeline builders, developers and more.
Unpacking Unstructured Data: Large Language Models used to extract insights from Neuropathological Reports of Parkinson's Patients
Poster: Bio-IT World Conference in Boston May 16-18
Using Graph Technologies and Artificial Intelligence to Power Terminology Management
Poster: Bio-IT World Conference in Boston May 16-18
Single Cell Data Science Consortium Enables Rapid Analysis of High Value Public Datasets
Poster: Bio-IT World Conference in Boston May 16-18
HDinHD: A Data Portal for Huntington's Disease Research 2023
Poster: CHDI 2023 HD Therapeutics Conference Dubrovnik, Croatia
SINGLE-CELL RNA-SEQ OF hPSC-DERIVED NEURAL CELL TYPES REVEALS EARLY GLIA-SPECIFIC DIFFERENTIATION TRAJECTORIES
Poster: NCATS
Enhancing the Fitness of Embryoid Bodies and Organoids by Chemical Cytoprotection
Journal: bioRxiv
Mapping of UK Biobank clinical codes: Challenges and possible solutions
Journal: PLOS ONE
Benefits of global mutant huntingtin lowering diminish over time in a Huntington's disease mouse model.
Publication: JCI Insight
Mapping brain gene co expression in daytime transcriptomes unveils diurnal molecular networks and deciphers perturbation gene signatures
Journal: Neuron
NCATS FRDB: Fast Response DataBase for Drug Repositioning
​Poster: BioIT World Conference and Expo
Prediction of standard cell types and functional markers from textual descriptions of flow cytometry gating definitions using machine learning.
Journal: Wiley Clinical Cytometry 2022
Measuring Disease Phenotype Reversal of HD Related Genomics Signatures in Response to Therapeutic and Genetic Perturbations Using Posterior Probabilities
Poster: CHDI HD Therapeutics Conference 2022
Effect of Small Molecule Splicing Modulators on proteome and transcriptome of HD stem cell derived neurons
Poster: CHDI HD Therapeutics Conference 2022
PerturbDB: A Database of Huntington's Disease Perturbation Studies https://www.hdinhd.org/
Poster: CHDI HD Therapeutics Conference 2022
Stage-Specific Disease Genes in the Cortex and Striatum
Poster: CHDI HD Therapeutics Conference 2022
HDinHD: A Data Portal for Huntington's Disease Research https://www.hdinhd.org/
Poster: CHDI HD Therapeutics Conference 2022
SEQUIN: rapid and reproducible analysis of RNA-seq data in R/Shiny
Journal: bioRxiv 2022
Expression analysis of Huntington disease mouse models reveals robust striatum disease signatures.
Journal: bioRxiv.org Preprint 2022
NCATS Inxight Drugs: a comprehensive and curated portal for translational research
Journal: Nucleic Acids Research 2022
Assessing the use of telemetric devices in preclinical safety studies in non-human primates - data aggregation step
Journal: Bio-IT World Conference & Expo 2021
A Workflow of Integrated Resources to Catalyze Network Pharmacology Driven COVID-19 Research
Journal: Journal of Chemical Information and Modeling 2022
Towards a comprehensive view of diagnoses in UK Biobank by data curation and aggregation.
Journal: Bio-IT World Conference & Expo 2021
HDinHD: A Rich Data Portal for Huntington's Disease Research
​Journal: Journal of Huntington's Disease 2021
Quantitation of CD137 and Nectin-4 expression across multiple tumor types to support indication selection for BT7480, a Bicycle tumor-targeted immune cell agonist™ (Bicycle TICA™)
Poster: SITC Conference 2021
NCATS- Directed Differentiation of Human Pluripotent Stem Cells into Radial Glia and Astrocytes Bypasses Neurogenesis
Journal: BioRxiv 2021
Building towards a computational infrastructure to aid in the interpretation of Bicycle® toxin conjugate response profiles.
Poster: BioIT World 2021
Molecular-based enrichment strategy for Nectin-4 targeted Bicycle toxin conjugate BT8009
Poster: American Association for Cancer Research April 2021
Implementation of the FAIR Data Principles for Exploratory Biomarker Data from Clinical trials.
Journal: Data Intelligence 2021
Application of MCAT questions as a testing tool and evaluation metric for knowledge graph based reasoning systems.
Journal: Clinical and Translational Science 2021
HD Mouse Striatum RNA and Protein Disease Signatures
Poster : CHDI Annual Conference 2021
HD Phenocopy Disease Share Dysregulated Genes with HD
Poster : CHDI Annual Conference 2021
Searching for Genomic Biomarkers for Major
Depressive Disorder in Peripheral Immune Cells
Journal: Biological Psychiatry 2020
HTT protein nomenclature: The challenge with variable domains
Poster: CHDI Conference 2020
Global Substance Registration System: consistent scientific descriptions for substances related to health
Journal: Nucleic Acids Research 2020
An integrative knowledge graph for rare diseases, derived from the Genetic and Rare Diseases Information Center (GARD)
Journal: Journal of Biomedical Semantics 2020
Multiple Myeloma DREAM Challenge reveals epigenetic regulator PHF19 as marker of aggressive disease
Journal: Leukemia 2019
The NCATS BioPlanet - an integrated platform for exploring the universe of cellular signaling pathways for toxicology, systems biology, and chemical genomics
Journal: Frontiers in Pharmacology 2019
Aggregation and integration of UKbiobank phenotypes data for downstream analysis
Meeting: BioIT 2019
NCATS Stitcher: Data integration and guided Curation tool
Meeting: BioIT 2019
Data deluge: challenges and solutions in implementing a precision medicine approach to create the TRACK-TBI information Commons
Meeting: BioIT 2019
Major Depressive Disorder Is Associated With Differential Expression of Innate Immune and Neutrophil-Related Gene Networks in Peripheral Blood: A Quantitative Review of Whole-Genome Transcriptional Data From Case-Control Studies
Journal: Biological Psychiatry 2019
Expression concordance of 325 novel RNA biomarkers between data generated by NanoString nCounter and Affymetrix GeneChip
Journal: Disease Markers 2019
A predictor of pathological complete response to neoadjuvant chemotherapy stratifies triple negative breast cancer patients with high risk of recurrence
Journal: Scientific Reports 2019
A novel panel of 80 RNA biomarkers with differential expression in multiple human solid tumors against healthy blood samples
Journal: International Journal of Molecular Sciences 2019
Identification of novel mutational drivers reveals oncogene dependencies in multiple myeloma
Journal: Blood 2018
Aggregation and integration of UKbiobank phenotypes data for downstream analysis
Meeting: ASHG 2018
A high-risk, Double-Hit, group of newly diagnosed myeloma identified by genomic analysis
Journal: Leukemia 2018
Replicable and coupled changes in innate and adaptive immune gene expression into case-control studies of blood Microarrays in major depressive disorder
Journal: Biological Psychiatry 2017
"I was skeptical about how effective it would be to outsource bioinformatics projects to a contract resource. My experience over the last two years has shown me that I need not have worried. The RanchoBiosciences team had impact with essentially a zero-learning curve. They show sophisticated understanding of the projects where we needed help and were able to grasp the context and goals of projects almost more fully than many team members. The RanchoBiosciences team is also highly skilled in project management; communication is clear, constant and well documented; and project progress is tracked and reported in ways all members can access status information with no difficulty. Our relationship with RanchoBiosciences has proven to be a great asset that offers instant scalability as programs as resource needs evolve. We intend to continue our partnership for the foreseeable future." VP Research, Top 10 Pharma
"Rancho BioSciences takes care of data quality, normalization, and curation as well as bioinformatics analysis and knowledge mining for multiple teams at CHDI. Colleagues often approach me to engage Rancho's services now; they've become an integral part of how we work."
"It's been a great collaboration so far, we really appreciate the work Monica's put in!" - Data Operations, Tech company
"I just want to say thanks for the awesome efficiency! This was my first time working with Rancho and I was very impressed with how fast it was completed!" - Biomedical Data Manager, Biotech
"I want to congratulate you on an exceptional, thoughtful proposal"​
​
"This is fantastic news. Thanks to you and the team for the speedy and diligent work."​
​
"All your feedback has been very helpful!" ​
​
"Our team are very happy with the output from the Rancho team." ​
​
"We have been in discussions with another data curation company for a while, however it's not been as simple as we would have liked, hence why we contacted you. I think your approach suits us very well - we already know how to work with data and have curated a lot of data ourselves, so we don't need or want to buy an entire platform, instead we are interested in identifying and obtaining the most valuable/differentiating data we can and putting it to work as quickly as possible. The discussion was very refreshing as you all seemed to get that - in only one meeting we were able to figure everything out and get to point where a quote could be sent. So, thanks again."
​
"Rancho has set the bar in terms of responsiveness and thoroughness in deliverables and have delivered within the timelines requested. Other candidate CROs have fallen well short of this. Therefore, Rancho has secured a spot as our preferred CRO for single cell curation needs!"
​
"I have total peace of mind in working with Rancho … "set it and forget it".​"​
"Thanks for sending this note and thank you for making this process very easy for the last two years. Also thank you for all the support you provided the team to QC the data. Hopefully I'll work with you on another project!"
"Thanks for this and it's been an outstanding project. Your team's contribution to the development of this platform has been incredible and helped enormously. You'll be our first call if we need more help!"
"Rancho has met and even beat our fast pace and expectations throughout this project! The project was a success due to the hard work, continuous productivity, and collaboration that Rancho provided, and we intend on continuing the project with Rancho next year."
"I know we have had a good experience with Rancho earlier this year so really appreciate your service!"
"Thank you so much for the final deliverables! Thanks so much for the wonderful job! It was very nice working with you. As said in the last meeting, this is beyond legacy data curation. Through this project the team also gained lots of insights for standardizing current/future data, as well as improving data creation and dataflow processes."
"What I think makes the relationship work, is the knowledge and quality of the informatics and project managements skills of the Rancho staff, their customer focus, willingness to ask good/tough questions in the spirit of making the project a success, delivery on timelines and flexibility under pressure. Communication is also critical – agreeing to an action plan, delivering the agreed analysis on time while adjusting to emerging data along the way are oh so rare these days and this MO is the base practice at Rancho." VP Translational Medicine, Leading Bio Tech Company
"Rancho BioSciences helped us to successfully complete a large, very important project. They quickly captured our needs and built a tool to process large amounts of data quickly which we could never have processed on our own." Data Scientist, Top 10 Pharma
"I also wanted to say that working with the entire Rancho team has been fantastic! I hope that we will find many projects to work on together in the future." - Bioinformatician, Top 10 Pharma
"The work that you've done is amazing and makes me think that it saved about a year worth of work from our time" - Principal Scientist, UKBiobank curation and harmonization project, Top 5 Pharma
"We've tried to work with this data before, and we can now see a big difference. Amazing." - Global Head, UKBiobank curation and harmonization project, Top 15 Pharma
"I also wanted to say that working with the entire Rancho team has been fantastic! I hope that we will find many projects to work on together in the future." - Data Manager, Top 20 Biotech
"If it involves data, it's Rancho"
"Your work is helping us move the metrics needle and improve the quality & reliability of its machine annotations. We appreciate it very much!"
"The Rancho team plays an important role in the success of our project.
Looking forward to continuing working with your team."
"Project has been great so far, really impressed with the curating that Bing has performed. We've been able to prioritize 50 datasets to ingest and looking forward to the next phase."​
​
"The deliverables were great. Where you really stood out was in project execution. We felt confident throughout the project thanks to excellent communication around timelines and logistics. Update meetings were efficient with reliable follow-through. You promised what we needed and delivered.​
In addition, your way of project management and delivery matches our values in being "execution focused"!"
"My stay here was relatively short, but long enough for me to learn from each one of you. I appreciate your endless support, collegiality, professionalism and your scientific rigor and collaborations that benefited both the team and I personally."
"Yes, the project has gone really well, and the curation has a huge impact on the Ai."
​"The guys at Rancho make the process very easy"​
"You did a nice job with normalization across lung cancer studies ​."
​
"Amazing! This looks perfect!" ​
​
"This inventory is AMAZING! Thank you so much!"
"Rancho worked really hard, asked lots of questions of us and got us thinking, which is what we were hoping would happen. This has been a good interactive project and we've been very happy with it. Not every company we work with can do this (level of interactive brainstorming) in projects."
"Thanks Rancho, indeed, the presentation went well. Especially given that we had to make a 90 degree turn to refocus the story in 3 days, it was all the more remarkable!"
"Rancho Employees are just awesome. The relationship is not just technical and scientific, but a people one. They are so easy to work with, so good at their jobs, and so into their jobs."
"Thanks for delivering on the POC project and also being open to newer modifications!! The automatic integration and the data integrity flags that you have incorporated as part of your workflow will save us a lot of time and make it easier to catch any errors. Looking forward to working with y'all on upcoming projects."